The first night after the morning that my husband had passed away, I was very much on edge and didn't know what to expect. One of my brothers,with the help of my son had broken down the hospital bed and removed it from the room where Chuck had lain for many weeks with pancreatic cancer. My son made my bed, the bed that Chuck and I had slept in for many years. When it was time for me to turn in, the bed linen  had been changed and the blankets had been turned down, ready for me to get in. I remember my son guiding me to the room and making sure I was under the covers safe and sound before kissing me goodnight and closing the bedroom door behind him. I didn't want to cry because I was afraid I would get congested and not be able to breathe. I was a mess, but I made sure the room was completely dark, then I pulled the comforter over my head and eventually fell asleep.
That first night I did wake up in the middle of the night. I went out to the dining room and hoped for light to come soon. Each succeeding night I would stay up later because I figured that it would decrease the number of hours of darkness that I now had to endure as well as increase the chances that when I awoke again there would be daylight once more. Night was no longer my friend. I lost track of the days, it was more a day to night, night to day sequence of time. This was part of my new normal, sleeping without my husband. At some point, I searched and discovered several products that eased me into sleep. One little balm that became my go-to was Badger's Sleep Balm https://tinyurl.com/yx9286e2 .
This product became a favorite of mine and still is. I rubbed it on my temples and wrists and took a whiff of the calming scent, all of which helped to soothe my frantic thoughts and restless mind.
I also came across some products at Bath and Body Works which are a part of their Aromatherapy Body Care line. I used the Sleep  Body Lotion https://tinyurl.com/y45bgwod with it's soothing lavender chamomile scent which is reminiscent of warm sweet milk. It was and still is a product that helps to soothe me after a stressful day. Back then everyday was stressful so this became part of my sleep arsenal. I rubbed the silky lotion into my skin and took a whiff of the scent which helped to turn off my restless and frenzied mind as I fell into a soothing restful slumber.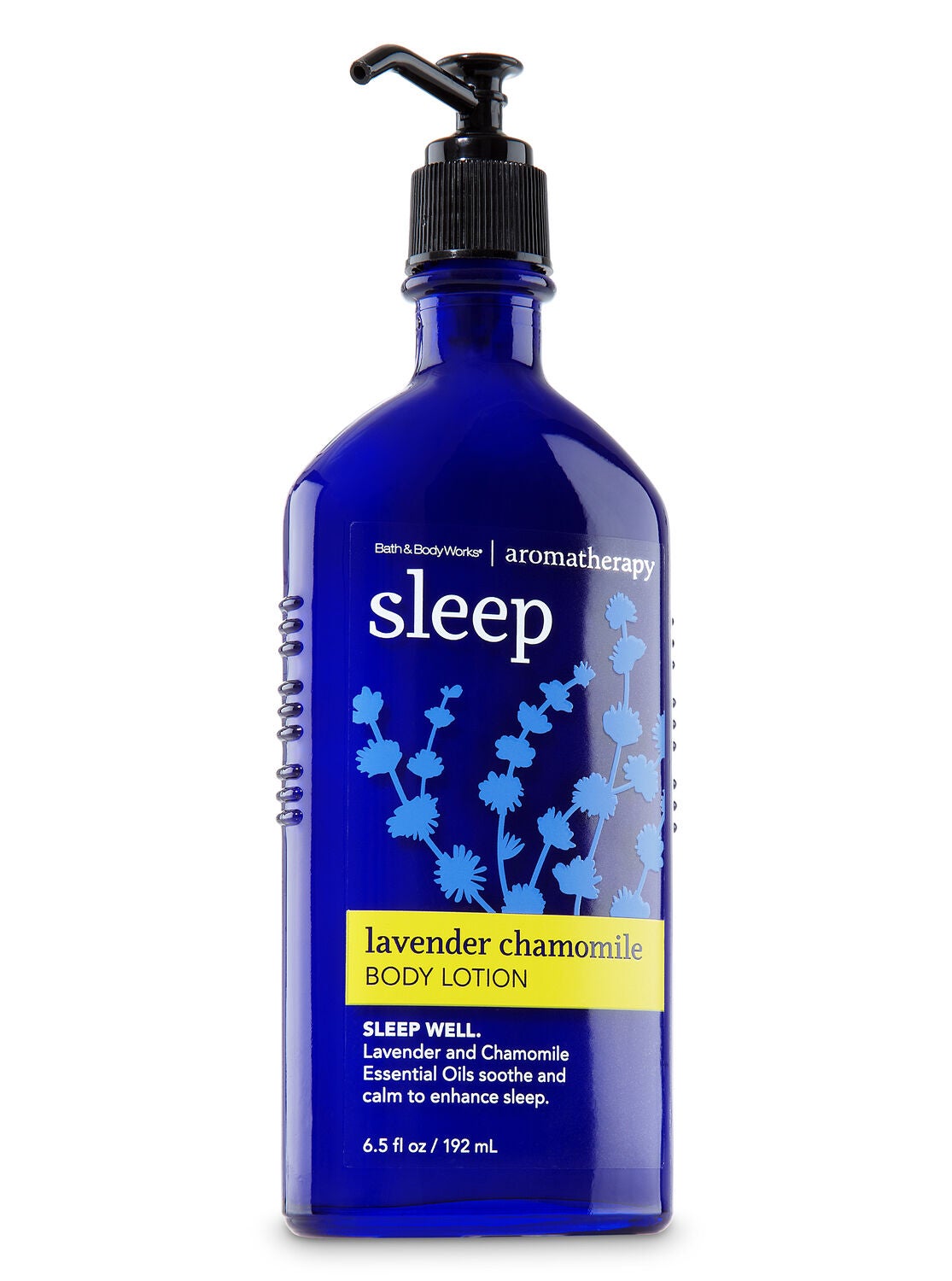 After sleeping with someone for many years, to feel the bed suddenly empty on his side was also a new issue I found myself contending with. One day I had an idea to fill Chuck's side with three pillows. A body pillow will also do the same trick. Now, when I would get into bed it didn't feel so empty and I began to feel less alone as I drifted off to sleep. I love the Company Store's pillows: shttps://tinyurl.com/y6nvvay3. This company has a a variety of pillows which you can shop by categories, sleep style, fill, and size. I love the the cooling effect of cotton covers against my skin and some of my favorite pillows come this company. They also have a rich beautiful color palette when it comes to their other bedding products such as their comforters and blankets. With me being allergic to some synthetic fabrications, I can count on the Company Store's comfortable cotton shell blankets, the LaCrosse in particular, https://tinyurl.com/y42jm3g7 to make me feel wrapped in a cloud and I own several. After tweaking my sleep style, and with the addition of the pillows to hold onto as I slept, when I occasionally awoke in the middle of the night, I was less prone to waking up in a start, trying to figure out where I was and or missing who was not next to me.

Part of life in the widow lane is about creating ways of feeling OK as you grieve and heal. I hope that these tips help to assist in your healing. Remember, in time as you slowly adjust to your new world, the intensity of grief will begin to level off. The time it takes does vary as it could be anywhere from a few months, a year, or even several years, but, rest assured, one day you will be back to your new self, although never again your old self.
Please share the ways that you were able to make it through the night after losing a spouse.We all benefit from what you share.
The Night Blooming Widow: To find out more about how you can heal after loss read Brave in a New World:A Guide to Grieving the Loss of a Spouse available on Amazon http://tinyurl.com/jnjs5fu